When contacting us through the Habbo Help Tool at help.habbo.com, you'll need to select the type of issue you're experiencing from the drop down list. Selecting the correct one helps us help you faster!
Remember! The first time you use the Help Tool to contact Habbo Customer Support, you will be asked to provide your email address. Make sure to type it in correctly, or you won't receive emailed responses to your request!

The first thing to do is use the search box on the main page. Most of the common questions about Habbo are already answered in our FAQs - so most of the time you don't even need to wait for us to reply!
If the answer isn't in the FAQ's, you can submit a new request to our customer support team by clicking on "Submit a Request". Every single email is treated individually with a ticket number. Sending more than one request about the same issue will slow down our response to you. If you need more info after we respond, reply to the email we sent you or click on "Check Your Existing Requests" rather than create a new one. So, what's the best place for your query? Well, it's pretty easy to choose the right options, as

 they are listed in a drop down under "And I want to talk about". Just choose the correct option and fill in the fields. The options are as follows: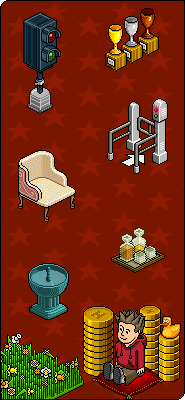 a problem with a Habbo credits purchase: If you've bought credits via credit/debit card, home phone, SMS or any other method and have a question that isn't covered in the Habbo Credits FAQ then choose this option.
a password/account access problem: If you're having a problem with your Habbo account password, and haven't been able to resolve it or reset it yourself, then choose this option.
a banned/muted/trade-locked account: Use this option only if your ban/mute/tradelock is in longer than 7 days. An 18-hour or 7-day sanction will most likely have expired by the time we get back to you. Please also refrain from appealing for a ban to be lifted, when we already said no. You may also wish to read the following FAQ: "What have I been banned for?
a stolen account: Stop! If your account has been accessed by someone else, the first thing you need to do is change your Habbo password immediately! You can find out how to change your password here. If you're missing furni or credits, then you need to read the following information about missing furni and/or credits.
a technical problem with Habbo: If you're encountering a technical issue, then choose this option.
report a fake Habbo website or Habbo Retro: If you have discovered a fake Habbo website, or one which offers free Habbo credits or furni, etc and wish to tell us about it, choose this option.
ideas and suggestions for Habbo: Got something on your mind about how to make Habbo even cooler? Want to suggest a fantastic new furni item or other feature? Then choose this option. We get a lot of idea suggestions, so we can't reply to each one individually, but we will pass them on to the relevant people!
a business/advertising/marketing proposition or query: If your business wishes to talk to Habbo about advertising or other partnerships, then choose this option. If you're a Habbo, don't send us a request using this option - choose one of the others from the list!
job enquiries: If you're interested in working for Sulake, please see the company website http://www.sulake.com/ for current vacancies.
a question about a badge/prize/campaign/competition: If you have a question about a recent competition and you won a prize but didn't receive it, choose this option for your ticket.
Habbo name change: Please note that we are not currently offering name changes. We will update this FAQ should we allow them in the future.
account deletion: If you are sure you don't ever want to use your account again, use this category to let us know. Please note that you may be asked for identification to confirm you are the original account owner. There is an easier way to delete your account: open the help window while playing and request your account to be deleted in the 'Account data' tab.
report bullying/scamming: Please remember to first and foremost report bullying or scamming to the moderation team in the hotel. If you feel that your case needs a longer explanation and more investigation, then choose this option.
Please note: The Habbo Help Tool is open Monday to Friday with some occasional hours on the weekend. We will do our best to look into your queries as soon as possible. Nevertheless please know that due to higher ticket volumes, especially after holidays, it may take longer to get back to you.